Hey guys!
I know I don't usually post on Sundays, but I got so caught up in having my husband home for (an all-too-brief) 42 hours or so (yup, he's already gone again) that I never hit the "post" button on a review of a fun little journal that Katie of Gadanke sent me to check out.
Gadanke is a handcrafted journal shop, with an emphasis on helping you to, as they put it, "celebrate your story."
Their journals are not your typical thick volumes of blank pages, but instead small (generally 5"X5" or so) booklets composed of "beautiful Italian patterned papers, American library cards, pockets, little sentiments, and 100% recycled German paper." (description from the website).
I chose to receive the "She" journal, which was, as promised, filled with all of the above, as well as cute/funny writing prompts to get my creative juices flowing.
Pretty paper.
Hand-stamped quotes.
Touches of whimsy.
Because of its lightweight nature, you would have no trouble slipping your Gadanke journal in a purse pocket and pulling it out to scribble a few lines of inspiration, thoughts, or random insights about life, should the urge strike you while grabbing a cup at the coffee shop or watching your kids romp on the playground.
The thoughtful extras are there to put a smile on your face!
If you would like a Gadanke journal of your own, there are lots of other options to choose from—like:
A baby book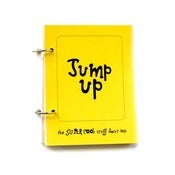 A kid's journal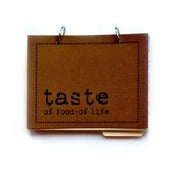 A food journal…
…and more—including various other themes and the option of a more traditional blank page journal, refill kits, and even engraved wooden pencils.
If you would like to purchase any of Gadanke's products at a discounted price-tag, be sure to enter the code ABBIE10 at checkout for 10% off your order (good through Tuesday, April 3 @ midnight). 
Also, you may want to check out Gadanke's shop page on Facebook where there are monthly FB only specials you can enjoy!
So…go ENJOY! : )
Disclaimer: I received no monetary compensation for this review and all the views expressed in it are 100% mine.