Good Monday morning, folks! I'm so sorry to have kept you in suspense all (busy!) weekend about the identity of the winners in:
But the wait is over!
And the tally is in!
During the month of November, we raised $1,525 (this total includes: Super Night with Super Mom, both Shop My Closet for Good events, the Gresham Barn Sale proceeds, and reader donations to the giveaway), so with our matching donor's response, that equals an impressive $3,050!!!!
That's absolutely awesome, guys, and I am so grateful to the Lord for giving me the opportunity to partner with you all to make a difference for PCM. 
Of course, money can never compare to the love, prayers, and commitment that the PCM staff-members, sponsors, and teachers lavish on those sweet kids, but the funds certainly don't hurt and they do help an incredible ministry to realize some really practical goals!
So…thank you! God has used you mightily this month, and I feel so blessed!
Okay…drum roll please (I should be ashamed of myself for indulging in such a cliché…but I'm not : ))…
The winner of:
5th PRIZE
1. This lovely flower belt made by Mandy of Biblical Homemaking:
2. A set of 4 gorgeous greeting cards, photographed and created by Dory, a sweet reader-friend.
is:
# 432 – Shelly Tyler
The winner of:
4th PRIZE…
1. These adorable fabric letters to spruce up your holiday decorating (made by reader, Morgan Mulhausen)
2. This custom 16-piece Christmas-carol themed stoneware set embellished by me.
and…
3. These fun handmade ornaments by Kelli of More Bang for Your Bucks:
is:
#252 – Lisa Johnson!
The winner of:
3RD PRIZE…
$50 credit to:
is:
#35 – Simeyswife!
The winner of:
2nd PRIZE…
1. Fun and funky feathered headband made by my generous new friend, Dory.
2. A fantastic bag made by reader, Morgan Mulhausen.
3. A beautiful pair of earrings from my sponsor: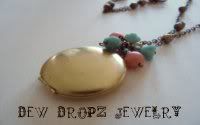 4. A fabulous crocheted scarf made by reader, Molly Byrd (she's posted the crochet pattern on her blog for you guys).
5. A cute set of vintage button bobbies made by moi.
6. A pretty wool felt flower pin made by moi.
is:
#157 – Michelle Wimp!
AND..
The winner of:
1st PRIZE…
$50 gift certificate to:
$40 gift certificate to:
$25 gift certificate to:
AND
$25 gift certificate to:
is:
 #316 – Katherine Empson!
Congratulations, ladies!
Shoot me emails with your contact info via the "Email Abbie" button, and I"ll make sure you get your loot!
Thanks again to everyone who participated in and prayed for this effort.
To God be the glory, great things HE has done!
P.S. Stay tuned for our regularly scheduled Move-it Monday post later on today.
P.P.S. The theme for this week's
is:
Wreaths!
(If you don't know why, make sure you read Friday's announcement!)