Just a quick heads-up: the winner of the Cutting Edge Stencils is #20 (chosen by random.org)—Elle Sees! Check your inbox, girlie, because you've got an email waiting for you! : )
Oh, and while your head's up, I thought you might want to know that Cutting Edge Stencils sent me some of their products to try out, and I'll be showing you what I did with one a little later on, so be sure to check back.
Will it give away too much if I mention that it involves the words "polka dots" and "washing machine?"
Nah, didn't think so!
And now for our FEATURES!
As always, I had a doozy of a time narrowing down my favorites from last week's Feature Friday FREE-FOR-ALL, but I thought I should at least try to legitimize myself as a blogger who occasionally crafts by acknowledging just a few of the many fantastic Valentine's-themed projects out there in blogland.
(Notice that I am legitimizing myself by featuring others' work…not by endeavoring to contribute any of my own. Let's not get carried away).
Check out these awesome Love (Yarn) Letters shared by My Sister's Suitcase.
And this clever spin on a traditional Valentine Mantel from 52 Mantels:
And in the world of furniture revamps, it doesn't get much better than this Gray-dient Dresser from The Delectable Home:
And if I had these sunny Block Printed Tea Towels that Garden Therapy made in my kitchen, I don't know if I'd ever be able to bring myself to wipe my hands on them. They sure do make me smile, though!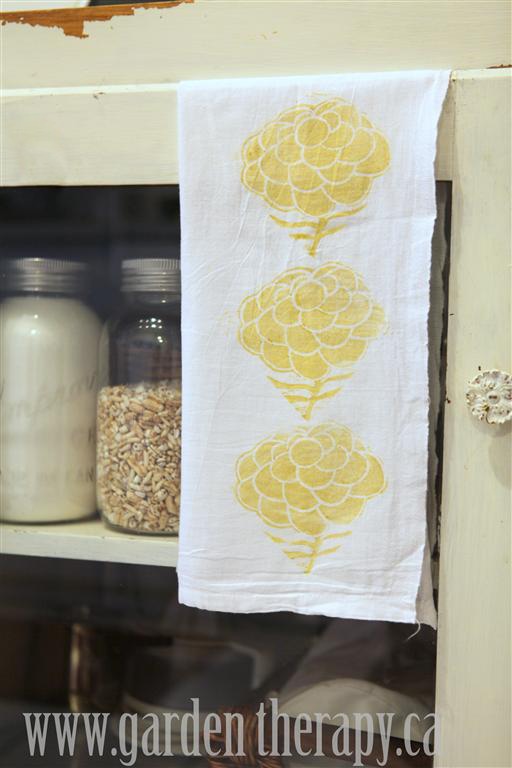 The Sweet Swiper shared this Boeuf Bourguignon Soup recipe. Doesn't it look delectable? And I'm not even a red-meat lover.
And I love everything about both the outfit and the tutorial about how to make a ruffled skirt out of old t-shirts that Suburbs Mama shared.
Feel free to grab a button from the sidebar if you've been featured!
So…
Yeah.
I'm pretty sure you guys know why you're here by now, so let's get to it, shall we?
Same "rules" as always:
It's a FREE-FOR-ALL!
If you've blogged about it, I want to see it!
So…
1. Link to your specific post URL instead of your blog URL (no limit on the number of linkies, so add as many as you like!)
2. Grab a party button so that others can join in the fun! (Text link-backs are great too! : ))
3. Consider visiting/commenting on at least 2 of the other links. You never know what kind of inspiration you might miss out on if you don't. Plus we all love to read words of encouragement! (I know I do!)
4. PLEASE, no shops or giveaways!
5. If we aren't already friends, would you do me the honor of getting regular post updates here?:
or you can:
subcribe for email updates,
and/or join our Facebook page!
No categories this week.
Just…
EVERYTHING AND THE KITCHEN SINK: